AR Porn News November 2022
A look at the top developments in AR porn this month. A top VR porn site filmed the first green screen VR videos for passthrough porn. Virtual Strippers have landed on the Meta Quest Pro. The first AR porn games appeared for the Quest Pro. Finally, a cheap mobile AR headset appeared that could make access to AR porn very affordable.
The Top AR Porn Stories Of The Month
SexLikeReal Film Green Screen VR Scenes For Passthrough AR Porn
Top VR porn studio and aggregator hub SexLikeReal have begun shooting VR porn scenes with a green screen, intended to be viewed primarily in 'passthrough mode' in Quest 2 or Quest Pro mixed reality. Although filmed in a regular way with a VR porn camera set up, other than the green screen, the resulting effect when viewed in passthrough mode is AR porn – the girl appears in front of you as though she is right there in your home, while you can see your real external environment. Like any recorded VR porn, you can only remain seated and you cannot move around the girls. This is unlike the true AR 'holograms' of, for example, Naughty America's RealGirlsNow. That type of 'hologram' AR porn relies on expensive volumetric 3D capture tech. It's somewhat ironic and surprising, that despite the Quest 2 only capable of low resolution black & white passthrough, passthrough AR porn on that headset is proving more popular than 'true' AR porn, at least for now.
Thus far, SexLikeReal have filmed two videos for passthrough AR, with the first of them (featured above) starring the beautiful young American actress Xxlayna Marie. It also combines ASMR, which apparently is also a trending niche among VR porn fans. Any VR porn video can be viewed in passthrough mode, but obviously it works best when the background to the girl/action can be faded out, if not with a green screen, then with a naturally dark background, such as the videos of DarkRoomVR.
RealGirlsNow Brings Virtual Strippers To The Meta Quest Pro
The leading AR porn site RealGirlsNow has confirmed that its volumetric 3D scanned virtual strippers can be viewed on the Meta Quest 2 in mixed reality. No need to even play about with the settings or install any app or software. You can just put on the headset and go to their website, and choose which girl you want to see in front of you in your own home. There are quite a number of models and animations available now at their site, although they are all still on the short side and do not contain any hardcore sex action.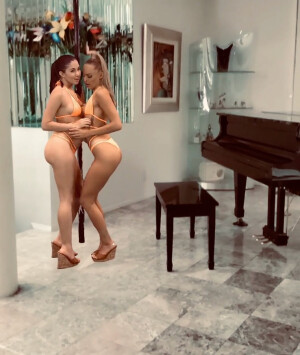 Although as I pointed out above, it seems that the simpler 'VR' passthrough porn is at present showing itself as much more popular than the 'holograms' of RealGirlsNow, I do believe there is a place for virtual strippers. And that's in being the mixed reality version of the ever popular 'desktop strippers' that have been around forever and that still remain popular to this day. The point isn't for the viewer to fap to them, or even have them as the focus of their attention. It's simply as background decoration, while you do your work or watch YouTube.
AR Porn Games For The Meta Quest Pro
AR porn games have already started to appear for the Meta Quest Pro. 'Passthru Hot Sauce' is rather simple and the girls a little on the crude side, but it might have the historical distinction of being the first AR porn content demoed in high-resolution, color mixed reality.
Much more impresive is a game called VR Hot (VR-Hot.com) Already a fully fledged game for Meta Quest 2 passthrough, now it can be enjoyed as it should in color and high resolution on the Quest 2 Pro. Not only are the girls much more sophisticatedly and smoothly animated, but you can interact with them in many more ways, and even by voice command!
Holokit X AR Headset Could Popularize AR Porn
In the beginning, VR porn took off due primarily to very cheap and simple mobile phone VR headsets such as Google Cardboard, and the Samsung Gear VR. There is now a mobile AR phone headset called Holokit X, and it could do the same for AR porn. It is at least, around $1,500 cheaper than the Meta Quest Pro. There has been a Holokit since 2018, but it was a very simple cardboard device. This new Holokit X, is an accessory for the iPhone, and looks a lot more robust and like a proper headset. There is no version yet for Android phones.
HoloKit X is an iPhone accessory that transforms your phone into an optical see-through Stereoscopic Augmented Reality headset. Explore holograms in mixed reality with direct vision of the real-world. The future is yours to see and imagine