3DUncut Is Another Volumetric 3D Pornstar Site For True Augmented Reality Porn
While passthrough 'AR' has quickly acquired a niche following (that may explode with the release of the Quest 3 with color passthrough), 'true' AR porn, in which you can move around a 'hologram', has proceeded along at a slower rate. That might be changing however, as a new AR porn site has launched with 3D volumetric scanned pornstars performing a variety of sexy routines. 3DUncut.com only launched around a month or so ago, and yet it is already steadily building up its library of 'holograms', featuring no less than eight different girls (or 'creators' as the site likes to call them).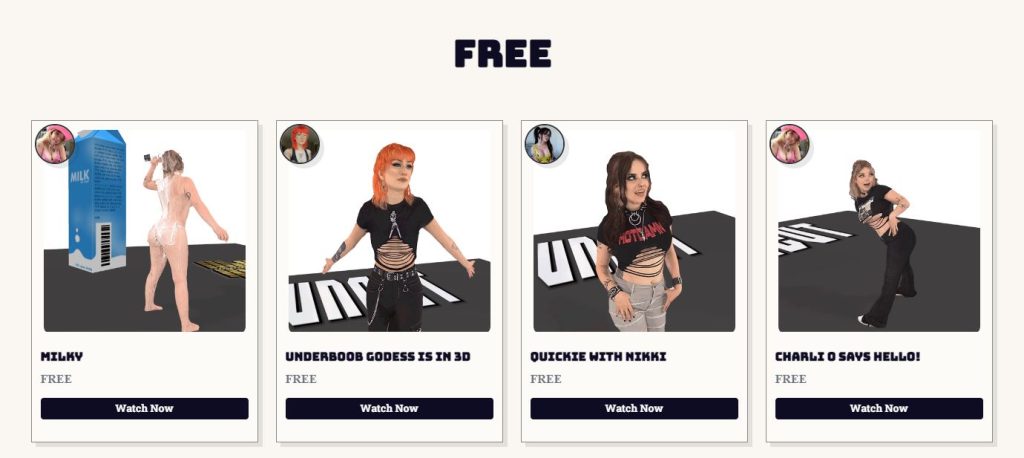 Like the other volumetric 3D porn site out there 'RealGirlsNow', the holograms of 3DUncut can be viewed in both augmented and virtual reality. As far as the AR is concerned, it's very impressive, with the girl's placement on the surface of your choosing looking very natural. More importantly, the animation of the girls is very good too, at least on a par with those of RealGirlsNow, and they last close to a minute in most cases. This appears to be a softcore site only though, as there are no sex scenes at present. Most of the holograms are currently free, with a handful costing $5 a time to download and keep.
What's perhaps most striking about 3DUncut, is that it visibly appears not to be a big budget effort. Volumetic scanning is, or at least was, a very expensive affair. The fact that what appears to be a quite low budget site is able to produce so mnay realistic holograms, with the number steadily growing, is a good sign, and an indication that costs have come down. Just in time perhaps, for the AR porn explosion that is set for October, and the release of the Meta Quest 3 headset with high-resolution color passthrough for mixed reality. It should be noted however, that at present, the holograms of 3DUncut appear to be viewable only on smartphones.