BadoinkAR – Early Review Of A New AR Porn Site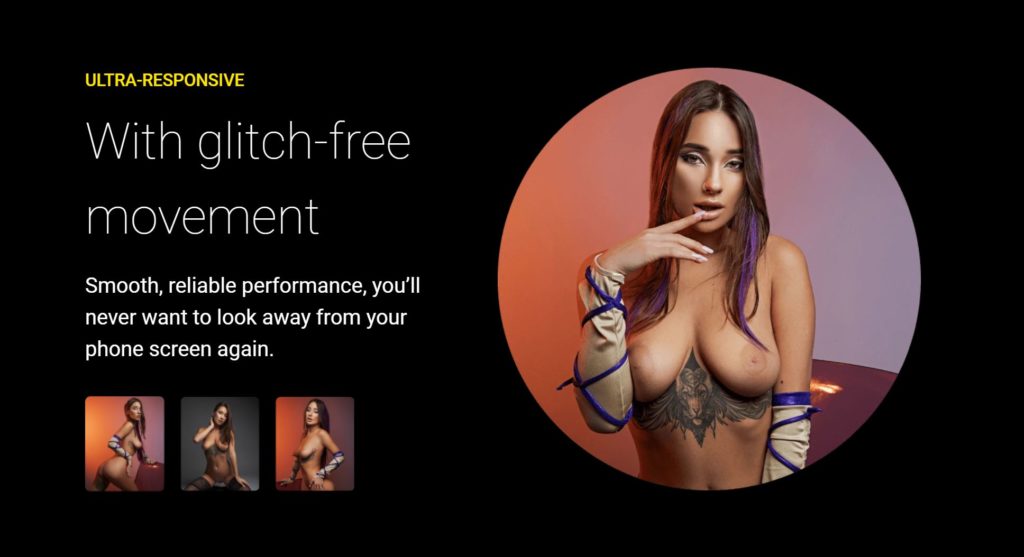 Badoink, one of the oldest and most popular VR porn studios, has now started offering its own augmented reality porn content. Although 'BadoinkAR' is not officially up and running (the domain redirects to the existing VR site), you can already try out one of their AR girls for free on your smartphone, simply by visiting BadoinkVR. Having taken a good look at her myself in my bedroom, as well as my living room, kitchen, and outside corridor, I can honestly say that I'm super excited about what promises to be a leap forward for augmented reality porn.
The girls (BadoinkVR pornstars) have been captured via volumetric scanning. This is a revolutionary type of 3D photography that can scan and capture – in 3D – objects and people with 100% accuracy. The result in this case is having photorealistic girls who appear in your living room via your smartphone camera, and who you can actually walk around and view from every angle. The realism seems a degree higher than with the girls of Naughty America, and much more realistic than with the only other site, other than these two, to really offer any kind of true AR porn – ARConk.
Another site which I recently reviewed here – My AR Girls – does use photorealistic girls you can place in your environment, but they are completely 2D in the sense that you can't move around them.
Not only does the appearance of the augmented reality girl in BadoinkAR change convincingly as you move around her, her shadow does as well (this is also the case for Naughty America)!
It should be pointed out that, at least through a smartphone, the girl – just like the other two AR sites – still appears in 2D. At present I have no information as to whether the BadoinkAR girls will be viewable in fully 3D inside AR headsets or with AR glasses. Given that they have been captured in 3D, I don't see why not – at least at a future point.
The AR pornstar is also positioned very convincingly upon a surface. For example, if you point your phone at your bed, she appears as though she is standing on the bed (all the scenes I tried have her standing). If you point at a table, she will appear with her feet on the top of the table etc.
As I said, currently you can try a number of 'scenes' completely for free, all involving the same pornstar. You can also enter your e-mail address to be given 'early bird access'.
It's still very much in demo mode, and currently it appears you can't even resize the girl or rotate her, but it's a taste of what might be coming hopefully very soon.
If I find anything more about BadoinkAR in the coming days or weeks, I'll update this page accordingly.